Hi Y'all!
Today is another special day. If you recall, I changed the name of Friday's post by borrowing "Follow Up Friday" from Heart Like a Dog. I thought it had a catchy tune.
Yesterday I had a neat comment from Jodi Stone who is Sampson's and Delilah's Human to have my Human email her. Jodi asked my Human if she would co-host todays post as a bloghop. So, with a little luck we embark on a bloghop today!
But first, to answer your questions.
Yesterday, Collie 222 asked if I thought my Human might adopt a brother or sister for me. The simple answer is "no". I'm a big fella and there just wouldn't be no room for another in our car.
Don't get any ideas Human…just where do you propose putting another one of me?
Goose wondered at what this bird is looking.
He definitely heard something…now you have me wondering! Maybe he heard the camera click.
Blueberry asked what I'm sniffin'…
I'm just checkin' to see what animal went through here.
24 Paws of Love asks if I'm the handy one with the camera or if I just lead them to the butterflies…
It's a tough job pointing out the butterflies and birds, not to mention checking out the big animals and finding ones that will co-operate with a photo session.
Blueberry asked if I gave my Humans a treat for fixin' the thorn and getting it out of my paw. I figured that some kisses and wags were better 'cause they're always watchin' what we all eat and limit my treats.
Dakota wanted to know if this is a fly in the cows eye. Sugar simply wanted to know if there was something by the eye.
It certainly is; there certainly is; it's a rather large mean nasty fly.
Ruby and Bart want to come visit 'cause of the heat they've been having, 100 plus temps! Anywhere out east here or even to the north of you has to be an improvement! Come on east!
Now lets get to our Follow Up Friday Blog Hop hosted by Heart Like a Dog and co-hosted by yours truly.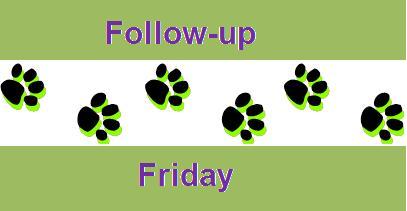 Since I've had a bit of an oops here and my Human knows less about computers than I, bear with us and hop over to Heart Like a Dog and link into the HOP!
Anyone who has any suggestions about Blogger and bloghops let me know and I'll try to teach my Human. If you have any suggestions for Wordpress let Jodi at Heart Like a Dog know. Comments or email are both appreciated as long as you can make our Humans laugh or smile or have helpful suggestions.
Y'all come back now!