Hi Y'all!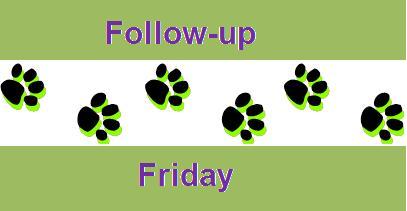 It's
Time to answer your questions from this past week.
To start with the turkeys…Sugar, you asked if they make noises.
They do make noises when calling their young to roost, or warnings to each other. Like any other bird call, you need to learn to identify it. However, when we see them out in the open feeding they are quiet.
Dakota asked if we have alligators…oh yes…
Fred and Gloria's mom asked where the gators go in the winter. They lay up in shallow pools, covered in water except for their head.
Flea from Jones Natural Chews asks what kind of bird this is?
It is an Eastern Phoebe.
Goose wanted to know how I knew he'd be up "here".
I just did!
Kim from Golden Pines asks, "you never know what will turn up when you're out for an adventure, do you?"
You sure don't!
Bart and Ruby asked if the birds above are turkey. Yes they are.
Hope we didn't miss anyone's question! If so, let me know!
Y'all come back now.