Hi Y'all!
Everybody probably knows who Rock Hudson was…but do you know who Rock Hudson IS ?
You don't?
Hint: This Rock Hudson is about the same age as I am!
Let me introduce you! Meet ROCK HUDSON!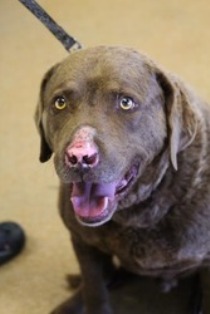 Nice to meet you. My name is Rock Hudson. I'm 7 or 8 years old.
What happened to my nose? It is an old burn that has scarred over. It doesn't bother me but it does sun burn easily.
I don't like talking about personal things. If you think I look sad, I am.
My person got very ill and will no longer be able to care for me…so these nice people at XL Rescue in Baltimore have taken me in. They are trying to help me find a loving forever home. If you could foster me until I find a new person, would you please fill out the application at XL Recue in Baltimore, Maryland.
If you would be my forever home it would be even nicer…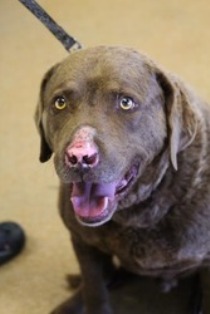 I'm calm and relaxed. I like other dogs and I've lived with children before. I weigh about 85 lbs., which is normal for a male Chesapeake Bay Retriever.
Can you help me?
To contact XL Rescue please use email: Claire@dogsxlrescue.org
Story and photos courtesy of Dogs XL Rescue and Petfinder.com