Hi there!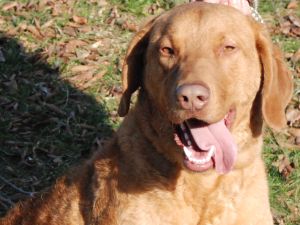 May I introduce myself? My name is Rusty Luke, but you can call me Rusty.
I'm a very large Chessie…though I'm not sure of my parentage…could be a mix…
The staff tells me that I'm an awesome dog. Just to prove it come let me walk on a leash with you!
Yep, I had a family, but they thought I was "too much" dog for them.
My wish is for a new family…a quiet family…I'm not fond of little kids prodding and pulling on me. I'm bouncy, love to play. I know how to play tug of war. I'm a retriever so fun retriever things would be even more fun.
You can contact me by phone or email. I'm in Chestertown, Maryland.
Humane Society of Kent County Maryland, Chestertown, MD • 1-866-661-7387 • kenthumane@yahoo.com
Spayed/Neutered • Up-to-date with routine shots • House trained