Hello, my name is Ghiradelli.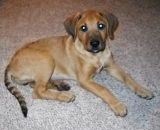 I was born in November of last year.
They say I'm a mixed breed of Boxer and Chesapeake Bay Retriever. But look at my tail! It looks like it belongs to a cat. I know cats, 'cause me and a couple of my siblings are fostered with a couple, along with five, yes count them, five other dogs.
On the positive side, I get to play tug of war, chew on stuff and run around and investigate in the big dark woods. Hey, I can stand up for myself with the other pups if I have to, but I'm an easy going guy.
I love my new humans. I like to hug and play licky face. I try to

do everything I can to please them.
Please, won't you adopt me? Make me your most loyal companion?
You can contact me, Ghiradelli, at
Animal Compassion Network, Asheville, NC Telephone: 828-258-4820 or send an email with my name to petfinder@animalcompassionnetwork.org
Click on my name of picture to go to my Petfinder page. Thank you.
Animal Compassion Network has a store for rescued pets, Pet Harmony located at 803 Fairview Street, Asheville, North Carolina 28803. Stop by to meet me and shop for all of your pet supply needs.