Hi Y'all!
Today is the the weekday when we introduce a dog in need of adoption. Stuff happens. Dogs end up losing their happy home. A shelter is like a jail. Would you want to be sent to jail just because something happened and you were suddenly homeless?
Many of these homeless dogs, living in doggy jails, are seniors, usually over age seven. Some are lucky enough to find themselves in foster homes instead of jails.
There is a special program available through Petfinder. Also some shelters offer their own programs to help senior humans adopt a senior pet. You have to read the program, because requirements vary about human age to be considered senior.
Here's an example of a Senior for a Senior.
Chessie is a Chesapeake Bay Retriever mix. Chessie is a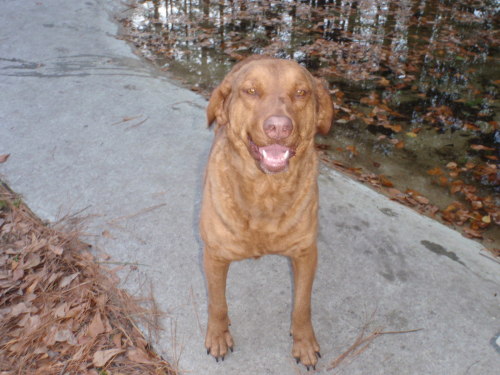 senior gal whose loving owner passed away and left her homeless. No one in the family had room for a large dog, so she ended up in doggy jail.
Several times the shelter manager called the people here at Maranatha Farm, Ridgela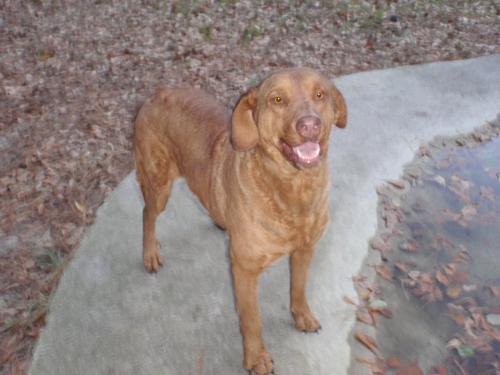 nd, SC. Finally we went to see this beautiful expressive dog. She's cheerful, loves walks and has tons of live and affection to give someone.
The Seniors for Seniors program at Maranatha Farm provides a gentle, well trained dog like Chessie to a qualified senior adopter at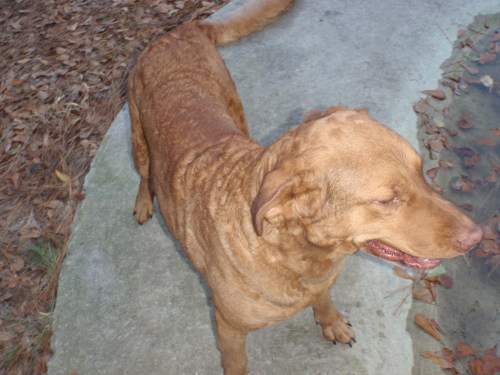 no charge. That's not all…they will continue to provide for all her medical needs for the rest of her lifetime!
So, if you are over 60 years of age and would love to share your love with this loving pawed one, Chessie, go to http://www.maranathafarm.org and download the adoption application.
Marantha Farm provides heartworm prevention, arranges medical care, vaccinations and wormings. They will also accept Chessie for boarding as needed. Should the senior become unable to care for Chessie the will accept her back.
Don't y'all think this is a wonderful "win, win"?
Chessie's contact information: