Hi Y'all,
It's me, Hawk. I have two friends here I'd like y'all to meet. One Riley you've met before. He's the 4 year old deaf boy whose owner left him for 2 weeks at a kennel and never returned.
Riley is housebroken. He's learning hand signals and is Mr. Personality. He'll also get along with other dogs. Older children are okay. A fenced yard is needed because of Riley's deafness.
For more information about Riley the Chessie, contact his foster in Arlington, Va. at Snicks98@aol.com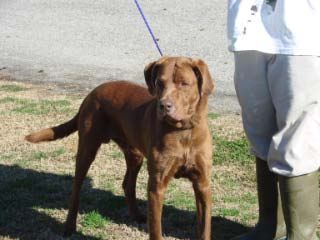 The second Riley is about 3 years old and 65 lbs. Since he is the silent type little else is known about him at present.
If you would like to meet this handsome fellow, Riley, contact Lenoir County SPCA, Kinston, NC • 252-520-0003 • lenoircountyspca@yahoo.com
Thanks for stoppin'.
Y'all come back now.