Hi Y'all!
It's me, Hawk, talkin'. I've always turned Thursdays over to retrievers in need. However, I've decided, since there is a blog hop now to expand the exposure of dogs in need, that I would change the day to coincide with the hop.
I'll still be joining up with This and That on Thursday…but look for the kind of things I was featuring on Tuesdays.
Now…I'd like to turn my post over to a beautiful Chessie named Brittany who needs a home, like mine, where people don't want her to hunt…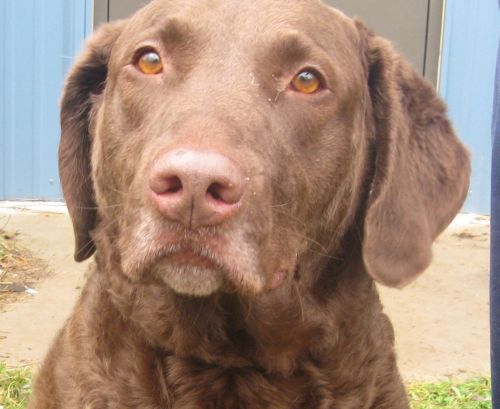 Hi! I'm really a happy girl…really I am. I lost my happy home 'cause the humans didn't think I was a good hunting dog.
I love children and I'm really, really good at playing with them. I enjoy being outdoors and having someone to play with outdoors.
I'd love to have a family and a fenced yard or someone to walk me on a leash and take me to do stuff like agility and obedience.
I'm a big girl and if you find it in your heart to take me into your home and love me and do stuff with me, I'd love you forever. It would be even better if you have children to play with. Did I tell you I really love children and I'm great at playing with them?
For more information about Brittany: Humane Society of St. Joseph County, Mishawaka, IN • 574-255-4726 • sjhumane@comcast.net
All information regarding Brittany and the photo is courtesy of Petfinder.com and Humane Society of St. Joseph County, Mishawaka, IN.