Today's beauty is 6 year old, 104 pound Queenie.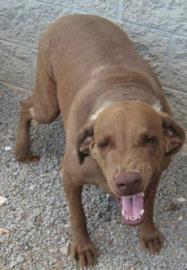 A real Chessie grin looks sort of like a snarl to some people who don't know Chessies. Here's a picture of one happy gal with a grin to welcome you!
If you're looking for that perfect companion to keep you motivated and join you in a diet and exercise program, Queenie is your gal! She's only 6! In an active household, where she can join the activities, and with sensible eating, she'll be an active slender beauty eager to show herself off on the Fitness Friday blog hop!
More information about Queenie from Petfinder.com:
"She is quiet, bashful, and extremely loving and would love to find a home where she can just relax and soak up all the love and attention you can offer. She is friendly with other dogs and friendly with children, although her confidence here at the shelter is low and she does startle easily. Queenie appears to be housebroken and would be best suited for an indoor home." "Spayed/Neutered • Shots Current"
Bowling Green/Warren County Humane Society
Adoption Center: 270-783-9404
Hours: Monday, Tuesday, Thursday, Friday 10AM-4:30PM, Saturday 10AM-4PM, Sunday 12-4PM
Closed Wednesday
1924 Louisville Road, Bowling Green, KY 42101
(All information about and photo is courtesy of Petfinder.com and Bowling Green/Warren County Humane Society)