Breed: Chesapeake Bay and Labrador Retriever
Age: 8+ year old
Gender: male
Weight: 75 pounds
Came to the shelter: 10/25/14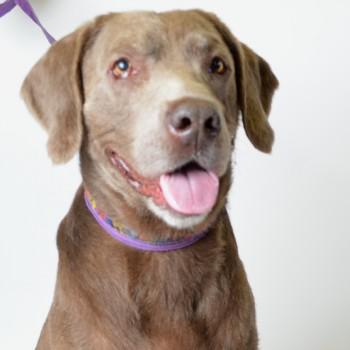 Hello, my name is Sterling. I'm friendly. I'm affectionate. I'm eager to please. I'm house trained. I'm easy to walk on a leash.
I realize it takes a special person to adopt an older dog. I sure hope that special person finds me, and soon!
Listen, I've got a lot of good years left to be your best friend, a wonderful companion! I promise to be a great addition to your family.
As part this shelter's senior dog discount program, you pay for my dog license ( if you live in Mendocino County) and you decide the rest of the fees.

Shelter hours:
Wednesday: 10-7
Tuesday, Thursday, Friday, and Saturday: 10-5
Sundays Monday and holidays: CLOSED
Adoptions must begin 1/2 hours before closing.
298 Plant Road
Ukiah, California 95482
(all information and photos of Sterling are courtesy of Petfinder.com and Mendocino County Animal Care Services)