Hi Y'all!
Today I want to introduce a dog that is listed as a Chessie Pit Bull mix to the followers of Tuesday's Tales. Thank you Dogs N Pawz and Talking Dogs, the hosts.
May I introduce Brandon!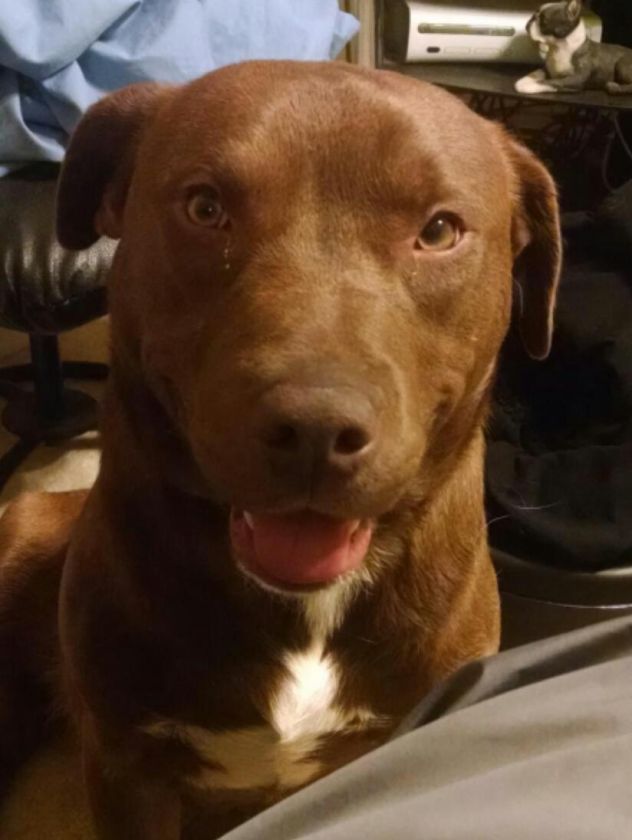 Brandon was an unclaimed stray at a vet office. He's had all his shots, is neutered and heartworm negative.
He's about 2 years old and weighs in at a trim 50 lbs.
I'm going to stray a bit and post quotes from Brandon's foster mom…
"1/12/15 UPDATE: Brandon does ok with cats too! He would be a perfect dog for just about any home.
1/31/15 UPDATE: Brandon is very mild mannered & laid back. A little hyper when you first get home after work because he is excited to see you but settles down pretty easily. Stays in my yard with me outside watching, comes very well when called if he wanders outside my boundaries. We are still requiring a fenced in yard for him to keep him safe because he will wander off. Pretty well house trained so far with only 2 accidents(both in middle of nite while I'm sleeping). He doesn't try to wake me if he needs to go out. Haven't seen the need to kennel him yet, so I haven't. He is a really good boy! And especially considering he has only been in my home for 5 days now. He wants to please and is very smart. Won't take long for an adoptive home to teach him your routine."
Brandon is begging someone to adopt him and give him a forever home. His adoption fee is $100.00.
Waverly Pet Rescue, PO Box 291, Waverly, IA 50677 is a NO-KILL 501-C-3 NON-PROFIT RESCUE.
(All information and photos are courtesy of Petfinder.com and Waverly Pet Rescue)
Y'all come on back and I'll share some sneak peaks into my adventuring.